The Write Stuff
A new team-building program to help your staff lower stress,
clarify vision, and build a creative work environment
For a company to thrive, it needs employee's commitment, creativity and teamwork. The Write Stuff is an invigorating group experience that will help your staff reduce stress, clarify their personal and team goals and improve the flow of the workplace…
…using poetry.
Reading and writing poetry helps people find clear ways to express abstract concepts, empathize with clients and colleagues, and find meaning in daily work. 
Read this excerpt from John Coleman's, Harvard Business Review article, "The Benefits of Poetry for Professionals."
Reading and writing poetry can improve one's ability to conceptualize the world and communicate it to others. The number one benefit poetry users cited was "understanding" the world, the self, and others. They were found to be more sociable than their non-poetry-using counterparts. And bevies of new research show that reading fiction and poetry more broadly develops empathy, a skill essential to those who occupy executive suites and need to understand the feelings and motivations of board members, colleagues, customers, suppliers, community members, and employees.
We inspire the members of your team to
Find meaning and personal investment in their work
Form positive connections with their co-workers
Unite behind a common purpose that supports and enhances your mission
The Write Stuff creates customized programs ranging from one hour to a full day of activity. Contact Tresha@ThePoetrySalon.com to learn how we can serve you and your team in achieving your goals. Get started on the road to a fun, memorable experience your employees will remember and grow from.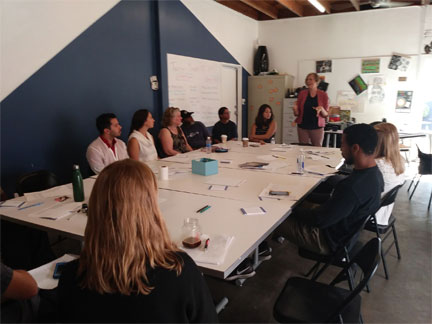 SaveSave
SaveSave
SaveSave